Dr. Josie C. Auger
Associate Professor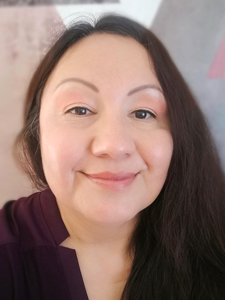 Contact
Education
B.A. (University of Alberta)
M.Sc. (University of Alberta)
Ph.D. (University of Alberta)

Biography
Josie C. Auger, Ph.D. is an Assistant Professor in Nukskahtowin and Faculty of Humanities and Social Sciences at Athabasca University. Her doctoral research addressed STI/HIV prevention using popular theatre and action research as methods. As a senior executive she led a non-profit organization in community health and wellness focusing on addictions training, research and health promotions from an Indigenous perspective. From 2014-2018 she served the Bigstone Cree Nation membership in a four-year leadership term. Treaty 8 territory is a rugged landscape now known for natural resource extraction and environmental impacts are one of her interests. Her own research requires the use of Indigenous research methodology to understand the invasion of sexual boundaries among Indigenous women and the impacts on self-determination and sovereignty.
She is currently teaching Indigenous Studies 348 - Aboriginal Justice, Indigenous Studies 390 - Individual Directed Research/Projects, Indigenous Studies 391 - Group Directed Research/Projects.
Publications
Baker, J.M., Gladue T., and Auger J.C. (2020) Monitoring the Land: Consultation and Extraction in Bigstone Cree Nation's Territory. In "Indigenous Stewardship and Alternative Development," Katherine Sinclair and Evodia, Silva editors. Toronto: University of Toronto Press. [In Progress}.
Golzadeh, N., Barst, B.D., Basu, N., Baker, J.M., Auger, J.C., & McKinney M.A. (2020). Evaluating the concentrations of total mercury, methylmercury, selenium, and selenium: mercury molar ratios in traditional foods of the Bigstone Cree in Alberta, Canada.
Auger, J.C. (2014). My People's Blood: Indigenous Sexual Health Recovery. Vernon, BC: JCharlton Publishing Ltd.
Auger, J. (2010). Spider Weaving: STI/HIV Prevention Using Popular Theatre and Action Research in an Indigenous Community [Doctoral dissertation]. Retrieved January 22, 2020, from https://www.collectionscanada.gc.ca/obj/thesescanada/vol2/AEU/TC-AEU-1382.pdf
Auger, J. & Letendre, A. (2005) Chapter 11 Sexual Health Practices. In First Nations Regional Longitudinal Health Survey (RHS) 2002/03, pp. 120-124. Retrieved January 22, 2020, https://fnigc.ca/sites/default/files/ENpdf/RHS_2002/rhs2002-03-technical_report.pdf
Cardinal, J.C., Schopflocher, DP, Svenson, LW, Morrison, KB and Laing L. (2004) First nations in Alberta: A focus on health service use. Edmonton: Alberta Health and Wellness.
Retrieved September 6, 2019, https://www.google.com/search?q=first+nations+in+alberta+a+focus+on+health+service+use&ie=utf-8&oe=utf-8&client=firefox-b-e
Auger, J. (1999). Walking through fire and surviving: Resiliency among Aboriginal peoples with diabetes.
Retrieved September 5, 2019, from http://www.nlc-bnc.ca/obj/s4/f2/dsk2/ftp01/MQ40026.pdf
Auger, J.C. (1996). Whose story to tell? In G. Kirkland & R. Davis (Eds.), Dimensions II (pp.85-87). Toronto, ON: Gage Educational Publishing Company.
Presentations
Courses
Dr. Auger's sessional instructor experience was at Athabasca University, the University of Alberta and Maskwacis Cultural College. She taught the following courses. Some course names and numbers have changed:
NS 210 Native Issues and Insights I
NS 375 – Native Health Issues
INST 2210 – now 1910 Indigenous Issues and Insights 1
INST 2211 – now 1911 Native Issues and Insights 2
INST 3560 – now 1500 An Introduction to the study of Canadian History
INST 1500 – Drama